FOR UP-TO-DATE INFORMATION REGARDING THE START OF THE 2020-2021 SCHOOL YEAR, AND OTHER LAUSD RELATED INFORMATION, PLEASE VISIT THE
LAUSD EMERSON WEBSITE BY CLICKING HERE.
2020-2021 New and Returning Parents! 
Please fill out the questionnaire below so you can stay connected through parent newsletters and announcements.
Welcome to Emerson PACE
Welcome to PACE for Emerson Community Charter Middle School!  PACE (Partnership in Academics and Community for Emerson) is the parent group working to help teachers and administrators at Emerson continue to make it the best place it can be.
Ever wonder why our school has such great programs? That's because of you and your generous donations! Your donations to PACE pays for
Teachers' aides
Technology in the classroom and IT support
Field trips and need based scholarships
Speech and Debate tournaments
Performing arts
Basic supplies like copy paper, pens and pencils
Curriculum support and professional development for teachers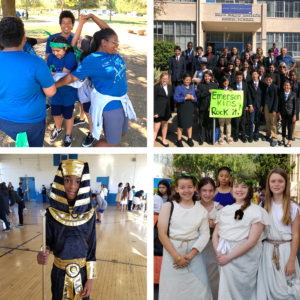 These programs could not exist without your help. We ask every family to donate $750 per child. However, we realize that this is not possible for all families, so we ask that EVERY family donate what they can. We want every child at Emerson to have access to what they need to learn and thrive. This will only happen if you chip in and make it happen. You can donate to PACE directly via Paypal.
Looking for other ways to make a difference? Volunteer with PACE! For more information, email info@emersonpace.com.
Sign Up for PACE Emails
Current Families:  Subscribe to the PACE Email list where you'll receive timely information about Emerson and your child's grade-specific news. Please click here to sign up.  You can also sign up for text message updates below.
Prospective Families: Welcome prospective parents! Sign up here to get emails regarding tours and other events for future Emerson families.
Alumni: Stay connected with us to receive community announcements and find out about future Emerson Community Charter events!  Please click here to sign up.