Each year, Emerson's parent organization partners with school staff to provide experiences, critical equipment and materials to enable many vital programs not funded by LAUSD.
We ask that every family donate $750 per child to support our school. We understand that the request is not possible for some families so please donate what you can. Without your support, some of the programs that make Emerson great will go away!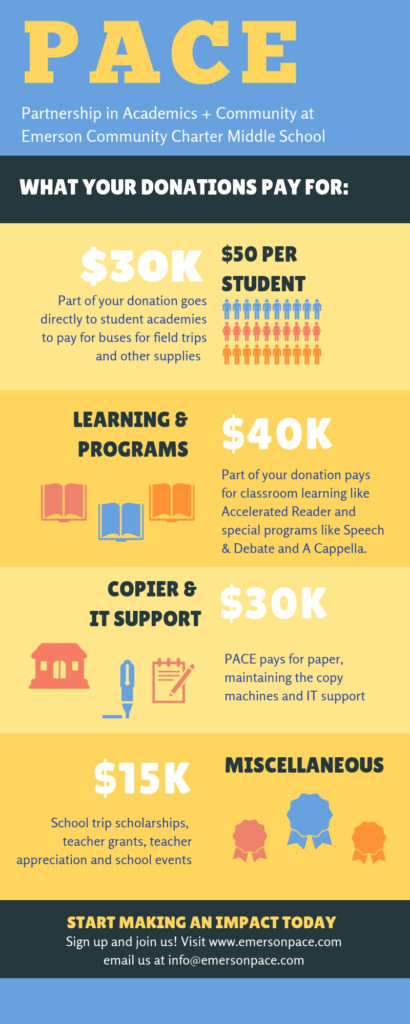 Your contributions help provide:
Academic Enrichment including Academy Days
Field Trips
Academy Equipment and Materials
Copier, Maintenance and Materials (LAUSD does NOT provide)
Office Supplies
Extra Support Staff
We can't do this without your support!
PLEASE MAKE A CONTRIBUTION TO YOUR CHILD'S EDUCATION.
All amounts are appreciated and tax-deductible!
Ask your employer if they participate in a matching donation program.
Our goal is 100% participation.
TWO WAYS TO DONATE:
Option 1: PayPal
Go to the PACE website at https://www.emersonpace.com homepage and click the "Donate" button. You have the option to make a one-time donation or break it into five monthly payments.
Option 2: Pay by Check or Cash
Turn in your donation into the PACE in-box in the Main Office At Emerson OR send it in a sealed envelope to the school with your child, who will give it to their AT teacher. Please include your full name, address, email, and child(ren)'s name and grade.
Emerson Arts and Education Foundation dba PACE is a 501(c)(3) non-profit organization. Federal Tax ID No. 26-3286259 Donations are tax-deductible as allowed by law.
---